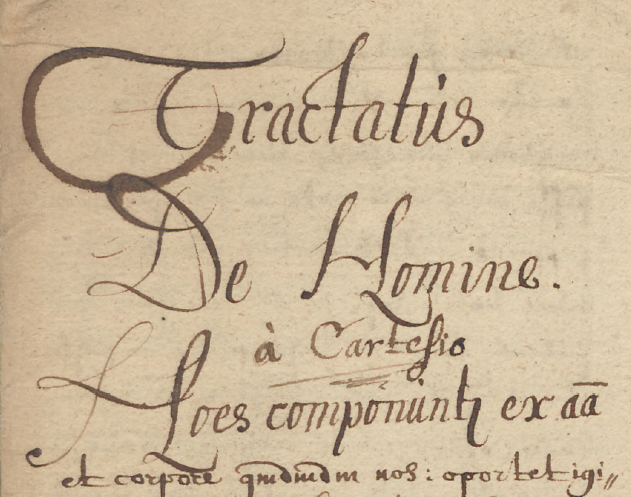 An Unknown Latin Manuscript of Descartes' L'Homme
In the Leiden University Libraries, Esphil researcher Erik-Jan Bos has found an unknown manuscript of a work by the French philosopher René Descartes. It is a seventeenth-century manuscript containing a Latin translation of Descartes' Traité de l'homme.  In this treatise, Descartes explains the functioning of the senses, the muscles and the most important organs of the human body. Much attention is paid to the neurophysiology of the brain, in particular to a small organ which, according to Descartes, is the place where the immaterial mind is in contact with the body: the pineal gland.
After Galileo's condemnation in 1633, Descartes abruptly stopped his work on the tract, which appeared posthumously for the first time in 1662 in Leiden, in a Latin translation. A French text appeared two years later in Paris. Until the recent discovery in Leiden, these were the only two sources for the text, and it is expected that the new (and so far only) manuscript can shed light on the problematic differences between the first two sources.
In contrast to the Latin translation of 1662, the new translation is very literal, and it is precisely this fact that makes the manuscript so valuable in the comparison between the various sources. It is (still) unknown who is behind the discovered Latin translation.
With the growing realisation that Descartes was not so much the inventor of a strongly dualistic world view, but should rather be seen as a fervent investigator of the unity between body and mind, the interest in L'homme has strongly increased in the present century. The new manuscript could hardly have come at a more opportune moment. Erik-Jan Bos, who is preparing its publication with a critical assessment of the other two sources, expects that the discovery will lift the discussion and interpretation of the work to a higher level.
READ ALL ABOUT THE DISCOVERY IN THE BLOG OF LEIDEN SPECIAL COLLECTIONS